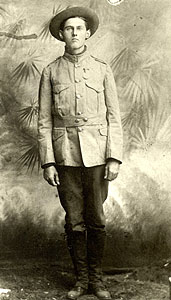 At right, Private Sam Adams of the Victoria Light Artillery from Fort Goliad, and bottom right Private Ernesto Menjares of the 1st New Braunfels Rifles from Camp Seguin, both dressed in the new service uniform of the Army of the Republic. Though modest in appearance these young soldiers will soon shape up through the courtesy of their sergeants and officers.
Upon enlistment in the Grand Army of the Republic a young man can expect to serve three years in either the artillery, cavalry, engineers, infantry or quartermaster/commissary corps. After a year of service he can apply to join the Texas Rangers. He is likely to be stationed in the west to defend against Indian and outlaw raids, although he could be sent anywhere from Amarillo to Cozumel. Also at some point in his career a soldier will spend time in a Bushwhacker unit.
Upon discharge he will be given a order of service showing his honorable service to the Republic and mustered out with $75 Texas Dollars in addition to any savings he had from his personal pay of $2TD per month. During his time in the Army he will contribute $0.02TD per month to his regiments funeral fund to pay for his burial honors should he die during service. He will also contribute $0.03TD per month to his regiments mess and brew fund to help pay for annual mess gatherings and celebrations, as well as keeping the regiment supplied with liquors, wine and beer. A further $0.05TD per month is set aside for the regiments disability fund should he become disabled in the line of duty funds will be spent to train or educate the soldier for a new career in life fitting with their disability.